What is google ads
Google ads is a advertisement system in which advertisers bid on the keywords for getting top rank in the SERP page.
If you're spending a lot of money on ads and you're not getting any Leads or not achieving Your Goals from the ads, you need to find or you need to change the ads Strategies.
Bidding strategies can help to save your money and help to bring good Leads To Your business in this article. I'm going to explain some important google ads Strategies so you can implement them in to your campaign.
Before creating Any campaigns we should know what is our goal, so according to the goal we need to choose ad type.
Important Google AdWords Bidding strategies
1.CPC ( Cost per click )
2.CPA (Cost Per Acquisition)
3.CPM (Cost per Million)
4.CPV (Cost per view )
5.Maximize Conversions and Clicks
6.Target Search Page Locations
7.Target ROAS(Return on Ad Spend )
1. CPC  ( Cost per click )
Cost per click is the most popular Bidding strategies used in campaigns and their keywords. This bidding strategy gives the overall control over the bidding. Through this strategies you can fix your bidding cost per click through manually or automated and enhanced CPC methods.
Manual CPC – it gives over all control for bidding and we need add the cost manually.
Automated CPC-Google will only take care of the cpc Based on your daily campaign budget, Google will increase or decrease your bids .
Enhanced CPC– it's similar to Automated CPC in this strategy adjust your bids but only by a maximum of 30% each way. Google determines on the basis of  its own historical data  according to data google increase and decrease the bids automatically.
2.CPA (Cost Per Acquisition)

CPA bidding is an automated bidding strategy in google ads. CPA refers to how much amount you will to spent for acquiring customers of acquiring goal.
For this strategy just enter your Targeted CPA and this method ready to start, bids will be set automatically on your campaigns based on the CPA. This strategy may help scale your business to Next level.

3.CPM (Cost per Million)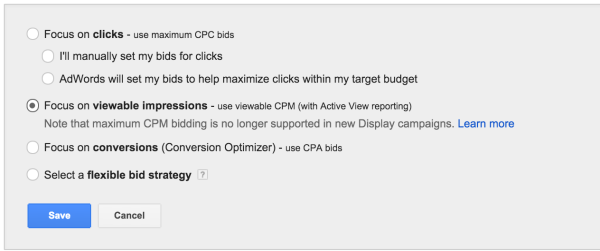 Cost per thousand Bidding strategy works only display network campaigns Not in other Network This bidding type is setting a maximum amount for your thousand impressions. This won't be charged for clicks charged only for Thousand Views.
4.CPV (Cost per view )
This strategy will work only if you're running google videos ads, here it works how much you're going to pay per View based on maximum amount ads will show.
5.Maximize Conversions and Clicks

This strategy is the easiest google AdWords bidding strategy. IN this your going set maximum amount needed to spend on Daily for conversions as well as clicks. It automatically set the bidding for getting more conversions.
6.Target Search Page Locations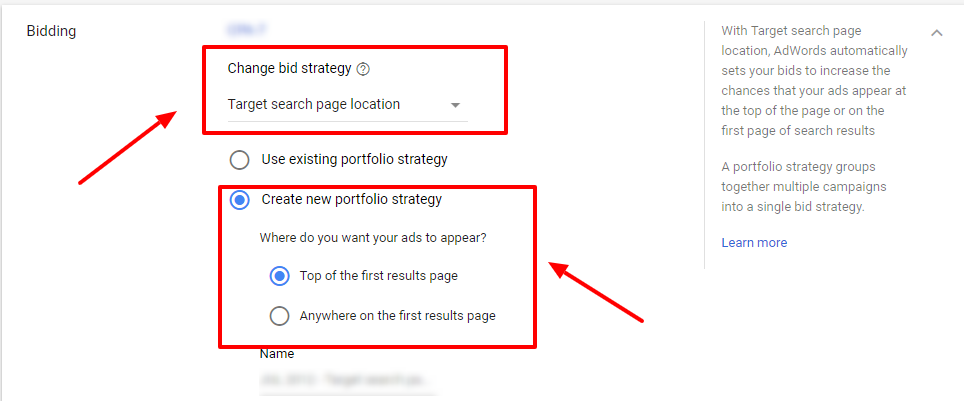 In this option there one is Top of the SERPs or Anywhere on the first page of the SERPs Through This Strategy we can set where we need to show. Ads will appear according Quality score and Bid of the keyword targeting, In this also bids automatically adjusted google itself.
7.Target ROAS(Return on Ad Spend )
It helps measure the amount your business earned for each Rupees it spends on Advertisement. This strategy allows you to bid on target return on ad spend. To use this strategy your campaign must have Generated at least 15 conversions in 30 days, but google recommending 50 conversions.
Formula For Calculation ROAS